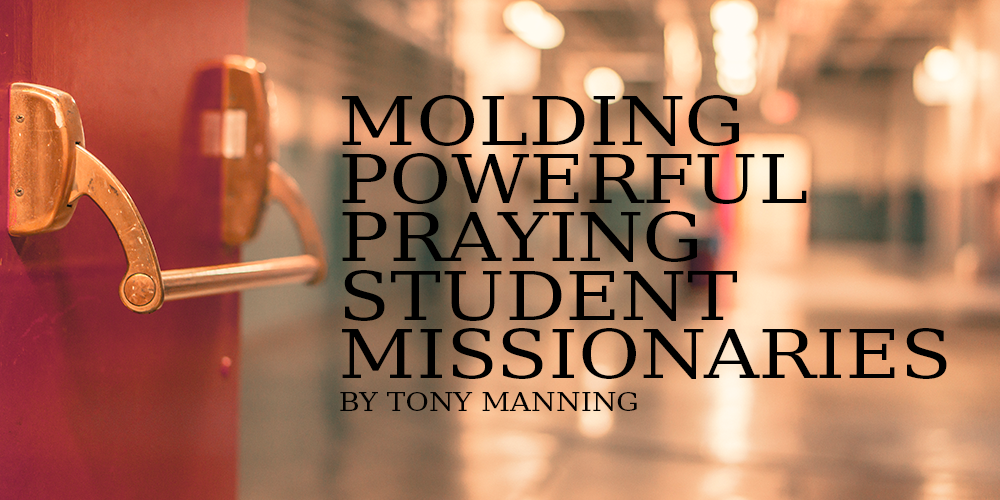 The following is written by Tony Manning, World Changers and P2 Missions City Rep in Indianapolis, IN. Tony works year round to bring groups together to serve church planters throughout Indianapolis. Based on his student ministry experience here are some suggestions on how to encourage and equip your students to be prayerful missionaries.
Students are surrounded by a sea of lostness in their everyday lives. Whether in their home, on a bus, in a class, or at the local hangout, students who know and follow Jesus often are overwhelmed with the mission of God. Where do they begin to put a dent in the mission's effort to eradicate darkness? Paralysis often sets in because they do not know where to begin so they do nothing and don't participate with God in His mission.
As leaders, we often misguide our own students by guilting them for not knowing the Roman Road, the latest tract, the four spiritual laws or even whittling down their testimony (story) to a memorizable three minutes. Although each of these methods for sharing are proven and effective, we often overlook the place where it all begins. The mission of God starts with God. So we must direct our students to begin by seeking the heart of God for the mission of God. We've got to start with prayer.
In his book, A Praying Life, Paul Miller says, "Learned desperation is at the heart of a praying life."[1] If we are desperate to see God work and move in the lives of those around us, then our desperation will drive us to the heart of God to initiate the mission of God. Unless we catch a glimpse of the severity of the situations of others, we will not be moved to act on their behalf. The only way to be moved by their plight is to understand the heartbeat of God for the lost around us. We can confidently agree then that if we are not talking to God about our friends, family, acquaintances, etc., then we are not talking to them about Him either.
So how do we cultivate our students' hearts for the mission of God? First, we've got to ensure that they see people as God does. People either know Him or they don't. There isn't a middle ground or a third way. They are either Christ followers or they are enemies of the King. So our prayers would focus on God's sovereignty and the thirty thousand foot view of God's Kingdom. We should pray as Jesus prayed in Matthew, "your kingdom come on earth as it is in heaven." As we move from the thirty thousand foot view, we need students to zoom in on a handful of friends or family so the story becomes personal.
This focus prayer is an opportunity for our students to vocalize to God these people who they encounter every day. Remember, we are more likely to talk to them about God if we are talking to God about them. Of course God already knows who they are, but vocalizing it with God is agreeing with Him that this friend or family member needs God and His gospel. This prayer is more than dropping names, but begging God for his favor on their behalf. As God begins to break our hearts for their eternal destiny, may He start cultivating their hearts to receive the gospel. As we take note of these names, we too can join them in praying for that divine appointment when the gospel can be shared. As we are praying for this appointment our next focal prayer is on the tool or method of delivering the message.
Most of us get caught up and anxious about what we are going to share and how we are going to share it. Jesus commands us to make disciples by teaching them the things that He is teaching us. There are some great tools we can use to share the gospel. Outside of Scripture, there is nothing more powerful than our individual stories of how God raised us to walk in the newness of life. Our prayer should be that our story doesn't highlight our past sin or make us the knight in shining armor. But our prayer should focus on our story as it is His story of how He came to save the day at just the right time. We are asking God to be the main character of our story so that those with who we talk will be attracted to the one thing they are lacking.
Preparing students for God's mission is more than raising funds, learning a craft, and getting parental permission. Preparing students for God's mission requires that we turn to God to see the big picture, matching names with faces, and making our story His story. Molding powerful praying student missionaries will impact our communities and churches as we live on mission with God.
[1] Paul E Miller, A Praying Life: Connecting With God in a Distracting World (NavPress 2009).