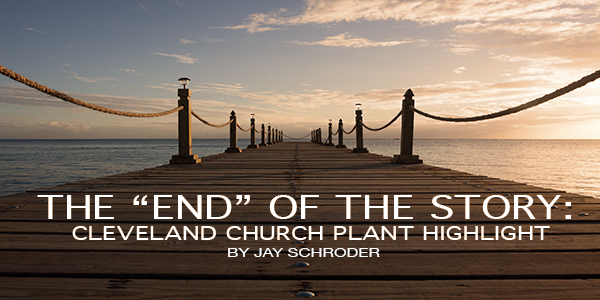 The following is written by Jay Schroder, P2 Missions City Rep in Cleveland, OH. Jay works year round to bring groups together to serve church planters throughout Cleveland. Here are just a few stories that provide a fuller picture of the ministry done in Cleveland during a year. 
Often teams serving with P2 Missions see a brief window in the life of a church plant and leave wondering what's going to happen next. The same could be said of any student mission trip: once you return home, what happens? Will the people with whom you shared the gospel respond, attend the worship service, or help start the new church? Will the new congregation continue to reach more people? Will they launch? Once they launch, will they make it?
 Fellowship Church
This past summer a crew from the P2/World Changers Combo Project – The Bible Beltloops – served Fellowship Church by helping  host their first ever Vacation Bible School in a local  park. Although it was not nearly as well attended as the church would have hoped,  the crew maintained wonderful servants' hearts, shared  the gospel, and lovingly engaged with anyone who came near.
 What happened after you left? Because of the participants' initiative to reach out to a family at the park (not one coming to the VBS), they  connected a woman named Marie to Mike, the church planter. After the team left, Mike followed up with Marie's family at her home.  "Coincidentally" Marie lives in the most unchurched neighborhood in Fellowship's target area. Marie is now hosting a Bible study for  Mike to teach Scripture to her family and hopefully other neighbors. They have joined the core group launching the church plant and  Fellowship will have its first public worship service January 18, 2015.
Forward Church
Throughout 2014 Forward Church has hosted many P2 Missions teams (at least ten), almost all of which mixed some construction or care for the new facility 
with some street-level outreach. On the construction side, teams that came in early June did a lot of demolition, while teams later in the summer installed bathrooms, doors, and flooring. Hundreds were fed, neighborhood parks cared for, homes in the community painted and roofed, and people heard the gospel.
What happened after you left? Forward's facility now has three completed ADA accessible bathrooms with running water, a sanctuary to seat around one hundred with more than one small door to enter, and a functional (though not finished) youth hangout. Furthermore, Santon, a consistent teenage volunteer from Forward who served with the teams (you probably remember him showing up around lunchtime daily) has made great leaps in his maturity. Though from a broken home and perennial foster care in a drug laden environment, now through his experience this summer, the inspiration of the people he met on teams, and through the discipleship process of Forward Church, he has now enrolled and begun his first semester of classes in a local college. If you've ever served in an inner-city neighborhood like this, you know what a remarkable choice Santon has made!
Gateway Old Brooklyn
Many P2 teams served with Gateway West, a five year old church plant. These teams helped West feed the homeless and launch its  next  church, Gateway Old Brooklyn. While serving in Old Brooklyn, teams went door to door, hosted block parties, and served the  community  in their garden. One P2 team in particular served an elderly senior adult in Old Brooklyn by giving time and energy,  planting flowers and  working in her yard which was in desperate need of attention.
 What happened after you left? The woman in Old Brooklyn has become a good friend of the church plant, attending their weekly pre-  launch Bible studies regularly, and asking questions about a relationship with Christ. She's even discussing how she can serve her not-  so-nice neighbors the same way the P2 team served her. Only time will tell, but it seems the gospel was planted along with the flowers!
It's Not the End
Of course, the updates above are not truly the end of the story. God is still at work through these and many other church planters. In Cleveland in 2014 we served 25 different church plants. If you served with us in Cleveland and the congregation you served wasn't mentioned above, feel free to contact me for an update.
For those of you serving anywhere with P2 in 2014, I'd encourage you to consider returning to the same missions location in 2015 so you can see what God has been up to since you've returned home. For whatever role you played in a P2 project – if you came and served, are a parent who trusted us with your student, gave so others could come, prayed for the ministry, or supported in any way – thank you for the difference your contribution made in the Kingdom!